Almost 240 people injured, 1 officer killed in Beirut protests amid clashes, reports of fire & police shooting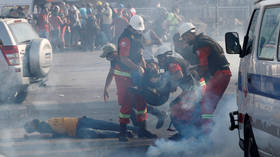 Army has been deployed to Beirut downtown to quell protests over the deadly blast earlier this week. At least 238 people were injured and 63 of them hospitalized and police said an officer was killed in the clashes.
Thousands of protesters gathered at Martyrs' Square in central Beirut, attempting to reach the Parliament and clashing with riot police.
Demonstrators threw rocks and projectiles at the officers, who responded by employing tear gas and other special means.
Media reports claim that law enforcement used rubber bullets and even live fire against the crowd. Photos from the scene, uploaded on social media, showed numerous bloodied people with serious-looking injuries.
One officer died from falling down an elevator shaft after being chased inside the building by rioters, a police spokesman said.
Eyewitnesses said fire has erupted at Martyrs' Square amid the ongoing unrest.
The protesters stormed several government buildings in the city, breaching the Foreign Ministry, the Economy Ministry and the Ministry of Water and Energy. The HQ of the country's Association of Banks was also attacked.
The Lebanese army was deployed in Beirut later on Saturday to help police restore order. A military column of several Humvees with manned machine guns and SUVs packed with troops was filmed making its way through the city.
Videos on social media also showed soldiers, who were armed with long sticks and assault rifles, pushing and shoving the demonstrators.
As the violence was ongoing, Lebanese Prime Minister Hassan Diab addressed the nation saying that he was going to request an early parliamentary election as the only way to resolve the crisis.
The protesters were spurred by the major explosion this week at a Beirut port where ammonium nitrate was being held. Over 150 people died from the blast and thousands were injured and thousands more left homeless.
Also on rt.com
Police deploy tear gas as Lebanon protesters try to break into parliament building following massive Beirut explosion
An investigation has been launched into the matter, but protesters have put blame on the government, citing little to no oversight or security measures taken with the highly explosive material.
The blast devastated a large part of the city, damaging businesses, hospitals and infrastructure, as well as leaving over 200,000 people homeless.While thousands were protesting, many locals, volunteer workers and emergency services continued going through rubbles looking for survivors and helping people who were left without shelter, water and food.
Like this story? Share it with a friend!
You can share this story on social media: