2 killed & at least 50 people injured in high-speed train derailment in Portugal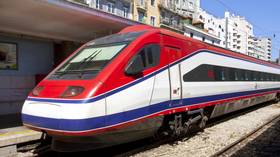 A high-speed train and a maintenance machine crashed on Friday in Portugal's central region, leaving two people dead and at least 50 others injured.
The Alfa Pendular high-speed train – the fastest in Portugal – went off the tracks in the central part of the country after colliding with a maintenance machine. The collision which occurred near the city of Soure left at least two people dead and some 50 injured.
The train was carrying 280 people, according to a local civil protection association. The country's national relief operations authority, CNOS, said over 160 rescue personnel are working at the site, as well as two medical helicopters. The District Command of Relief Operations in the neighboring city of Coimbra also said that a field hospital is being set up at the crash site.
Seven people, including the train driver are reportedly in a serious condition, while 30 have only minor injuries. The mayor of Soure, Mario Nunes, said the two people killed in the crash were working on the rails at the time the train and the maintenance machine collided.
Portugal's President Marcelo Rebelo de Sousa has already expressed his regret over the "serious rail accident" and sent his "heartfelt condolences" to the victims and their relatives.
Em Soure descarrila um Alfa Pendular capaz de atingir os 220 Km/hora e SÓ morre uma pessoa?É esta falta de ambição que me choca nos portugueses. pic.twitter.com/rw29ntOIb5

— Rúben Branco (@rubenbranco123) July 31, 2020
Think your friends would be interested? Share this story!
You can share this story on social media: