Nord Stream 2: Geopolitics, economics or emotions?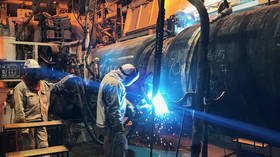 Emotions are running high about the prospect of a new pipeline across the Baltic Sea bringing gas from Russia to Europe. But with the industry turned upside down by Covid-19, it's the best solution.
"History doesn't repeat itself, but it often rhymes," reads a nice quote attributed to the great American writer Mark Twain. Seldom do gas pipelines catch the hearts and minds of people, but there's no denying that Nord Stream has had that effect. Politicians, journalists and analysts can get very emotional about this 760-mile (1,224km) gas pipeline that stretches from Russia to Germany. Its history dates back to the energy talks between the European Union and Russia in the 2000s.
Emotions have been running high ever since the project officially got under way in the summer of 2005. In my lectures, I often refer to the statement by the then Polish defence minister, Radoslaw Sikorski. He compared the Nord Stream pipeline with the Molotov-Ribbentrop Pact between the Soviet Union and Nazi Germany in 1939.
This reaction illustrates the geopolitical and historical tension the project triggered from its very inception. And, currently, we are observing a noisy replay of similar sentiments that reminds us of that quote by Twain.
Heated debates
In the early 2000s, I attended many energy debates in Germany. In the shadow of the first gas crisis of January 2006, when Russian gas exports via Ukraine to Central Europe were halted for a variety of reasons, the concept of a direct Russian-German connection stirred up considerable controversy and heated debates.
Some voices claimed that such a project, if built, would cause an 'implosion of EU energy policy' (if such a thing existed, I should add). The Treaty of Lisbon, in 2009, stipulated an intergovernmental approach rather than a supranational one.
But nevertheless, despite the political and emotional considerations, and after finding legal and technical solutions for construction in the Baltic Sea, the first string of Nord Stream was built and put into service in November 2011, with the second one following in October 2012.
Also on rt.com
EU court rejects Nord Stream 2's complaint, insists it must share Russian gas pipeline to Europe with competitors
Given Germany's rising demand for natural gas, and its decision to gradually move away from nuclear power, it was decided to expand operations. So, in spring 2017, agreements were signed to start Nord Stream 2.
On the Russian side, the negotiations were handled by Gazprom via Nord Stream 2 AG; on the European side, five European energy companies, including Royal Dutch Shell, ENGIE and OMV, committed to financing 50 percent of the project's total cost.
Fears over Nord Stream 2
But yet again Mark Twain's words rang true: there was another debate on the 'lack of diversification' and 'geopolitical endangerment of the EU'. The arguments by the critics of Nord Stream 2 were similar to those heard in 2005 and 2006. But the fundamental difference this time stemmed from the role of North American shale gas on the global gas market.
Nord Stream 2 was contested not only for geopolitical, historical and ecological reasons, as its predecessor was 15 years earlier, but because there were also questions about whether Europe should buy natural gas from the East via a pipeline, or liquefied gas from the West via vessels.
With sanctions on Russia in place, the Europeans had been considering a switch to the US shale gas since 2014. But it was not until 2017, with the arrival of Donald Trump's administration, that American shale oil and shale gas were placed high on the agenda.
Also on rt.com
Can Moscow finish Nord Stream 2 gas pipeline despite US sanctions? 'Never say never' says Gazprom
Washington conveyed the need to build liquefied natural gas (LNG) terminals to import shale gas to its EU partners on many occasions. After the NATO summit in July 2018, not a single bilateral meeting with EU foreign ministers, whose countries are also NATO member states, was held without that topic being brought up.
I argued against it on the basis of economic criteria based on supply and demand, which should be the decisive criterion for the construction of terminals, but had to recognize that political and emotional considerations were far more important to those who had started the argument. As a result, Nord Stream 2 faced ever bigger challenges.
Effect of Covid-19
Covid-19 has presented a very new market situation. The price of oil and gas has fallen tremendously as a result of the global lockdown. It's hard to find an exploration project that can still meet the basic cost and profit criteria with such low prices (and even negative ones, as was briefly the case in mid-April).
Had coronavirus not existed, the World Energy Outlook 2019 had estimated that the US would represent around 40 percent of total global gas production growth by 2025.
Under such a scenario, the International Energy Agency (IEA) expected a shift back towards conventional natural gas only as of 2025 and until 2040.
But with the current market volatility and chaos, the fracking industry is in a quagmire, because its production costs are simply too high. US colleagues have been warning against a very hard landing of the US shale industry for years. Their main concern was the considerable debt many of those firms had contracted during the bonanza of rising gas prices and the demand for more LNG.
Also on rt.com
The car is a symbol of freedom and mobility. Covid-19 isn't going to change that
Now, for example – and just to name one company among many – Continental Resources has shut most of its shale production in the Bakken oil field in North Dakota. The company had not hedged its crude production in recent years, leaving it exposed to market volatility.
The lingering question for many LNG terminals intended to be built from Croatia to Poland is whether they can be justified in the wake of the current low gas prices and the ensuing uncertainty with US gas supplies. More and more US fracking companies are going bankrupt or facing severe financial difficulties. Can the supply of US shale oil and gas be considered secure, and are the planned LNG terminals economically justified today?
Compromising the Green Deal
Moreover, I have difficulty understanding how Europe can consider purchasing gas from a source that is far more polluting and harmful to the environment than conventional gas exploration. How can this decision be reconciled with the EU Green Deal?
As many US fracking companies will not be able to survive this severe downturn, it makes sense to look back to the US oil industry a century ago. A telegram correspondence between the oil rig plant and the company office would read along the lines of, "We have good news and bad news. The bad news: no oil found. The good news: no gas either."
Associated gas – gas as an unwelcome by-product – has been flared for decades, and it still is. This can trigger even more costs. And yet today's situation forces companies to reduce costs more than ever before.
Planning for future demand is currently even more of an enigma than it has been in past decades. While nothing is certain, there is one indisputable fact: supply can always be created, but demand cannot. The economists within OPEC, the IEA and in each and every energy company are trying to figure it out. "Force majeure", or as Americans call it "God's Act," has hit demand in a way never seen before.
When negotiating the purchase of oil and gas, and its transit routes, emotions should be left at home. The focus should be purely on supply and demand. A pipeline should not be built to please or annoy somebody, but because it makes economic sense and there is supply and demand for the commodity it carries.
Like this story? Share it with a friend!
The statements, views and opinions expressed in this column are solely those of the author and do not necessarily represent those of RT.
You can share this story on social media: