Aerobatic team member killed as Canadian Air Force trainer jet crashes into house in British Columbia (VIDEOS)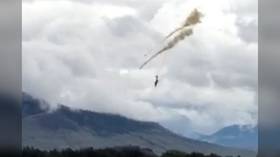 A CT-114 Tutor training jet of the Canadian Air Force 'Snowbirds' aerobatic team has crashed into a building in the city of Kamloops, killing a female team member while the pilot suffered serious injuries.
A routine Snowbirds flight in Kamloops on Sunday suddenly went wrong when one of the aircraft veered out of control and hit the ground soon after takeoff. Videos recorded by eyewitnesses showed the moment when the chilling incident occurred.
Two of the teams' CT-114 Tutors took off from the Kamloops airport and were flying low. After gaining some altitude and making an aileron roll, one of them suddenly took a steep nosedive and two streams of smoke were seen ejecting out of it, followed by a loud bang.
Soon after that, the jet crashed into the ground.
The footage seems to confirm that the crew managed to eject before the crash – but it doesn't show the chutes' canopies deploying on time.
The plane crashed into a nearby house, with photos published on social media showing the wreckage burning in someone's front yard. A parachute on a roof of another building is seen in separate footage.
While part of the building was damaged, no one on the ground was hurt.
The Canadian Air Force has confirmed the tragic crash, saying: "It is with heavy hearts that we announce that one member of the CF Snowbirds team has died and one has sustained serious injuries."
The victim was identified as Capt. Jenn Casey, a public affairs officer with the Snowbirds. The pilot of the aircraft, Capt. Richard MacDougall, sustained serious but non-life-threatening injuries.
Think your friends would be interested? Share this story!
You can share this story on social media: