Danish blood donor study suggests coronavirus may be less deadly than WHO predicted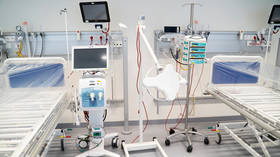 Research on a group of blood donors in Denmark alleges the Covid-19 mortality rate may be lower than the 1-3 percent indicated by the World Health Organization, though the team urges caution in taking the data at face value.
EDITOR'S NOTE: The original version of this report was based on outdated death toll used in the study. This report has been amended to clarify inconsistencies and accurately reflect the actual numbers as of April 16.
Tests carried out earlier this month at the Rigshospitalet in Copenhagen on 1,487 samples looked for antibodies formed during a coronavirus infection, and found 22 of the donors positive.
However, the research team noted a number of caveats should be kept in mind when reviewing the figures, saying they are "complex" and pointing out that blood donors tend to be healthier than average members of the population. They also note that it's likely some of those tested had already recovered from a coronavirus infection, but their blood was no longer showing antibodies.
With adjustments for imperfect tests – and with the generous assumption that blood donors are representative of wider society – the research estimated some 127,000 Danes have been infected with the virus, Henrik Ullum, chief physician and professor at Rigshospitalet, told Danish media.
Also on rt.com
Netherlands reports spike of 2,000 deaths above average, suggesting Dutch coronavirus toll may be far HIGHER than expected
Taking that figure and comparing it to the known deaths from the novel coronavirus in Denmark, indicates a mortality rate of 0.16 percent. At the time of the research, though, Denmark had recorded 203 deaths from the coronavirus. That toll had already risen to 321 as of Thursday.
The head of the Danish Health Authority said earlier there was "a lot of contagion in Denmark" adding that there was a "huge, somber amount" of undiagnosed people in the country.
According to the latest government figures, Denmark has so far recorded 6,879 cases of coronavirus out of a population of 5.8 million. This currently represents a death rate of roughly 4.6 percent of all officially detected cases. The World Health Organization back in March estimated the crude mortality ratio of Covid-19 to be between 3-4%, but has not been tracking the constantly fluctuating value noting that the true figures "will take some time to fully understand."
Danes have been in a lockdown since mid-March, but moves to relax the measures came in on Wednesday. As a first step, day care centers and schools for children in first to fifth grades reopened.
Also on rt.com
Chinese scientists identify drug that reduces risk of severe pneumonia during Covid-19 infection
Think your friends would be interested? Share this story!
You can share this story on social media: