Coronavirus death toll surpasses 3,000 in France, with 418 deaths in one day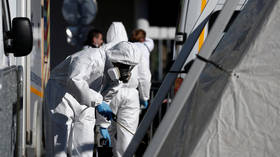 The Covid-19 pandemic has killed 3,024 people in France, the country's director-general of health said on Monday. A total of 44,550 confirmed cases have been registered in France since the start of the outbreak.
The latest figures mark France's worst day to date of coronavirus fatalities.
So far, the French government tally only covers coronavirus sufferers who died in hospital, and the figure is expected to increase much more, once deaths in retirement homes are added in.
Last week, French authorities announced an extension to current restrictions aimed at curbing the spread of the deadly virus, as the number of hospitalizations and deaths continued to climb.
A tally of official coronavirus figures compiled by the AFP news agency showed that deaths from the virus had already climbed above 25,000 globally on Monday, before the latest French data was released.
Also on rt.com
Death toll from Covid-19 in Europe breaks 25,000 milestone
Think your friends would be interested? Share this story!