1 critical as magnitude 5.3 earthquake hits capital of Croatia, damages buildings and iconic cathedral (VIDEO, PHOTOS)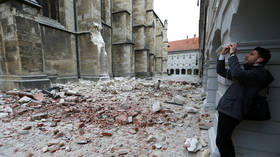 Strong quakes have struck Croatia's capital Zagreb leaving at least one person in critical condition and damaging buildings downtown, including the city's main historic cathedral.
A 15-year-old child is in critical condition after Zagreb was hit by a 5.3-magnitude earthquake, which was followed by a 5.1-magnitude tremor 40 minutes later. The epicenters of the two quakes were located 8km (five miles) and 7km (4.3 miles) from the city, respectively.
Health officials had reported that the child had died before later retracting their comments.
Officials urged people to leave their homes for safety reasons but instructed them to keep social distancing amid the Covid-19 pandemic.
Local media reported that residents heard sirens go off, and buildings were damaged in downtown Zagreb, including the iconic Zagreb Cathedral – one of the towers of which has partially collapsed.
The United States Geological Survey (USGS) measured the earthquakes at 5.4 and 4.6 magnitude, saying they both struck near Kasina, a village on Zagreb's northern outskirts.
Zagreb's head of emergency services, Pavle Kalinic, urged people to leave their homes. "Get out of the houses and help your older neighbors," he said.
The Interior Ministry asked people who had fled their homes to maintain a "necessary distance" to prevent the spread of the Covid-19 disease, and to wear face masks if possible.
Also on rt.com
For the green zealots, Covid-19 is our penance for sins against the planet
Think your friends would be interested? Share this story!
You can share this story on social media: