Canada is closed: PM Trudeau locks down country to foreign citizens except US nationals over coronavirus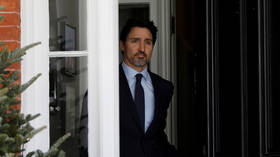 People who are not Canadian, US citizens or permanent residents will not be allowed to enter the country, Prime Minister Justin Trudeau has announced, in the latest measure to combat the covid-19 coronavirus spread.
The restrictions will come into effect on Wednesday, with airlines required to bar people from flights if they show symptoms.
"If you are abroad, it is time for you to come home," Trudeau announced on Monday from his residence in Ottawa, where he is in self-isolation after his wife tested positive for the virus. He added that Canadians should avoid all non-essential travel until further notice and should remain at home as much as possible.
Also on rt.com
Covid-19 is defining global health crisis of our time, WHO warns, as more deaths & cases reported in rest of world than in China
Furthermore, only Calgary, Montreal, Toronto and Vancouver airports will be allowed to accept international flights. Air crews, diplomats, immediate family of Canadian citizens and US citizens will be exempted from the lockdown.
Asked why he was making an exception for Canada's southern neighbor, Trudeau said the two countries are economically integrated and that he was acting "in coordination" with US authorities to limit the spread of the deadly virus.
Trade will continue with other countries, Trudeau added.
As of Monday morning, Canada had 324 confirmed cases of Covid-19, with a further 17 "probable" cases. Four people in Canada have died from the fast-spreading virus, which first emerged in China in late 2019.
The World Health Organization branded the pandemic the "defining global health crisis of our time" on Monday, as the number of cases in the rest of the world exceeded those reported within China.
Like this story? Share it with a friend!
You can share this story on social media: