European Commission suggests restricting all non-essential travel to EU for 30 days over coronavirus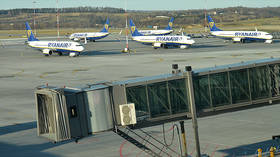 President of the European Commission Ursula von der Leyen has rolled out coronavirus containment recommendations to all member states, including the banning of all "non-essential" travel to the EU for a month.
"The less travel, the more we can contain the virus. Therefore ... I propose to the heads of state and government [that they] introduce a temporary restriction on non-essential travel to the EU," von der Leyen said on Monday.
The travel ban would last for an "initial period" of 30 days, but can be prolonged if necessary, she added.
The @EU_Commission presents guidelines on border measures & proposes: 1⃣Green lanes/fast lanes giving priority to essential transport to keep the mobility sector going & ensure economic continuity2⃣Temporary restriction on non-essential travel to the EU (30 days) pic.twitter.com/9bda9MntF0

— Ursula von der Leyen (@vonderleyen) March 16, 2020
Long-term EU residents and family members of EU nationals, as well as diplomats and doctors battling the virus, will be exempted from the travel ban.
Apart from that, the guidelines suggest that emergency medical and food supplies into the bloc are provided with special "fast lanes" to ensure that supermarkets and health institutions are able to cope with the growing demand.
The travel ban will also not affect UK citizens, despite London's decision to leave the bloc.
"The UK citizens are European citizens, so of course there are no restrictions for the UK citizens to travel to the continent," von der Leyen stated.
The proposed measures are expected to be discussed – through a video conference – by the EU Council on Tuesday. It remains to be seen how exactly the plan will be implemented – if approved by the bloc members altogether. Such travel ban would require participation of the visa-free Schengen Zone member-states that are not a part of the bloc. It also remains unclear whether the EU states that are not within the Schengen will have to join it or not.
Also on rt.com
Spain & Portugal increase border controls to slow coronavirus spread
The EU Commission proposals also suggest the re-introduction of controls on the internal borders between the member states. The health screening would be conducted only on one side of the border, to prevent people from being tested twice and thus minimizing the large queues that carry an increased danger of spreading the virus.
Several EU nations have already ramped up controls at their borders with other bloc members in a bid to slow down the spread of the virus. Earlier on Monday, Berlin suspended visa-free travel on its land borders with France, Austria, Switzerland, Denmark and Luxembourg. Foreigners without a "valid reason to travel," as well as those suspected of being infected with Covid-19, are now being turned away. Cross-border commuters and cargo, however, have been exempted from Germany's restrictions.
Also on rt.com
Covid-19 air travel cull: Nordic flag carrier SAS to 'temporarily' lay off 90% of employees as it halts traffic
Border control was also increased by Portugal, which suspended air and rail traffic with Spain for a month. The latter locked down its land borders as well, letting in only Spanish citizens, long-term residents, cross-border workers and people with "justified emergencies."
Last week, the coronavirus outbreak was declared a pandemic by the World Health Organization (WHO), which said Europe was now the hotspot of the disease. On Monday, the global health watchdog that the number of the confirmed cases worldwide has already surpassed those within China. So far, over 170,000 coronavirus cases have been confirmed worldwide, including some 6,700 deaths.
Also on rt.com
Germany introduces border checks with 5 countries over coronavirus, still keeps broad-scale exemptions
Think your friends would be interested? Share this story!