Spectators injured as fireworks display goes wrong, hits crowd at Indian temple (VIDEO)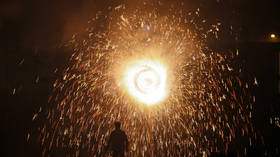 At least 17 people, including women and children, were injured when a pyrotechnic display went awry at an Indian temple, according to local media reports citing police.
The accident occurred as a crowd gathered to watch fireworks at the Nadakkavu Devi temple in Kochi (Kerala state) on Wednesday night.
A video of the incident shows firecrackers shooting toward spectators, who screamed and ducked for cover as sparks rained down on them.
"When the fireworks display began, a part of a firecracker landed amid a group of spectators and burst," said a police official quoted by local media.
Reports suggest at least 17 people were injured, including a 9-year-old girl. They were transported to a local hospital. It is said that one of the women suffered serious burns of the legs, and others' wounds are minor.
Think your friends would be interested? Share this story!
You can share this story on social media: