'Nazi Germany' comparison once again: Pakistan's Imran Khan resorts to strong rhetoric against PM Modi's India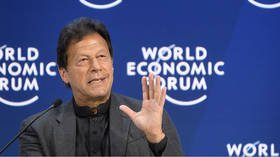 PM Imran Khan has once again accused India's prime minister of leading the country down the same path Nazi Germany took, as the two states are polarized by their view of India's policy towards Kashmir and its new citizenship law.
Speaking at the World Economic Forum in Davos, Switzerland, Khan expressed his "fear" that Pakistan's nuclear-armed rival was following in the footsteps of Adolf Hitler.
The latest developments in India bear a "striking resemblance to what happened in Nazi Germany," Khan told Foreign Policy, noting that in 1930-1934, Germany "went from a liberal democracy to a fascist, totalitarian, racist state." He described it as a "disaster" for India which is "a multicultural society and a secular society."
This is not the first time Khan has made the brazen comparison between India and Nazi Germany. He brought it up in December in a speech to a conference of Pakistani-American doctors, as well as in an emotive tweet back in August.
Two of the main reasons for Khan's anger have been India's decision to withdraw the special status of Kashmir, and its adoption of new citizenship legislation that critics say discriminates against Muslims.
Also on rt.com
India PM Modi points finger at Pakistan over 'persecution' of minorities as he defends new citizenship law
The issues have led Indian-Pakistani relations to the boiling point. Last summer, a flare-up of tensions occurred when Prime Minister Modi's government abolished Article 370 of the Constitution which gave special status to Kashmir. The Pakistani leader fiercely criticized the move, but New Delhi insisted that the move was long overdue.
The constitutional clause has been "an artificial wall" between the region and the rest of India, Modi said last October. He maintained that the reorganization will help quell the Islamist insurgency, boost economic growth, and bring about "a new age of political stability" in Kashmir.
Khan also attacked Modi for adopting the Citizenship Amendment Act (CAA), which India says serves strictly humanitarian purposes and intends to help religious minorities from Muslim-majority Afghanistan, Pakistan, and Bangladesh. As Modi once said, the legislation reflects "a culture of compassion" and isn't aimed at marginalizing Muslims.
The new legislation sparked huge protests across India, which the government said was incited by their rivals spreading rumors and misinformation. The authorities launched an awareness-raising campaign to clarify the law.
Also on rt.com
Thick red line: India and Pakistan may have no peace in 2020, just the seeds of hope
However, when asked about the possibility of conflict between Pakistan and India, Khan stated: "We're not close to conflict right now."
Think your friends would be interested? Share this story!
You can share this story on social media: