Oops! Canadian nuclear power plant 'incident' alert turns out to be 'error' after 'Chernobyl' Twitter panic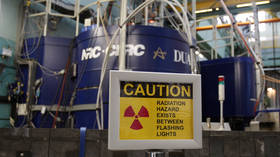 It was 7:24am Sunday when Ontario residents received a chilling alert about an "incident" at one of the world's oldest nuclear power stations located a few kilometers away from Canada's most populous city of Toronto.
Pickering power plant, located on the shore of Lake Ontario, sent out an alert stating that emergency staff are responding to an incident at the facility, although "there has been no abnormal release of radioactivity from the station." It also said that locals do not need to evacuate or take any other protective measures.
Still, scarce information about the nature of the supposed incident apparently did not reassure residents and the alert certainly got under the skin of quite a few people. They, in turn, soon sent Twitter into meltdown as hundreds of people turned to social media to voice their fears and skepticism about whether the situation was really safe.
The panic on Twitter soon reached such proportions that #Chernobyl started trending in a matter of minutes.
However, it quickly turned out that the alarm was in fact false and there was no incident at the station, so the alert was called off. It seems that not everyone was convinced though that there was no reason to remain alert.
Others criticized Pickering power plant for issuing a false alert and sarcastically joked about the station's staff not being particularly good at their jobs.
Commissioned back in the early 1970s, Pickering Nuclear Generating Station is the third-largest such facility in Canada. Located on the northern shore of Lake Ontario, it currently has six operating reactors and generates about 15 percent of the province's power.
Like this story? Share it with a friend!
You can share this story on social media: