2 dead, 6 injured after student shoots teacher & classmates in Torreon, Mexico (VIDEOS)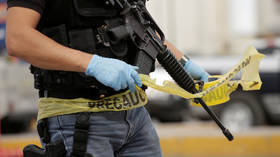 Two people have died and a further six were injured in a school shooting in the Mexican city of Torreon. Local officials say that a young student used two handguns to mount the attack.
Torreon mayor Jorge Zermeno said the boy turned the gun on himself after shooting his teachers and classmates, leaving two people dead.
The Attorney General of Coahuila, Gerardo Marquez, told reporters that the child had left the class to use the restroom, where he apparently changed clothes into an outfit that included a t-shirt bearing the words, 'Natural Selection.' A similar shirt was donned by Columbine student Eric Harris when he and fellow twelfth-grader Dylan Klebold shot 13 people dead at their school in 1999.
When the 11-year-old failed to return to class after 15 minutes, the teacher went looking for him and the boy opened fire using two handguns, Marquez added.
Footage from outside the Colegio Cervantes school shows anxious parents and children gathered around. The school was evacuated after the alarm was raised when shots were fired shortly before 9am local time.
Local media initially reported 3 dead, but the number was later lowered to two, with six others reportedly admitted to hospital.
The injured, who reportedly include one adult and a girl as young as seven, are being treated at the Sanatorio Espanol hospital.
A police investigation is underway to establish the motive for the attack."We are already investigating, but not even the boy's father knows how he had access to the weapon," Coahuila State Attorney delegate Maurilio Ochoa told the media.
Think your friends would be interested? Share this story!
You can share this story on social media: