Iranian MPs declare all of US military 'terrorist entity' after General Soleimani killing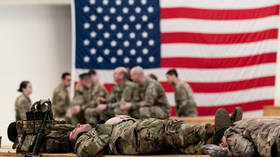 The US Armed Forces are now regarded as a terrorist organization under an urgent motion by Iranian lawmakers, who earlier branded the assassination of the Quds Force commander "state-sponsored terrorism," state media report.
Iranian MPs adopted a bill on Tuesday calling "personnel of the Pentagon, all affiliated companies, institutions, agents and commanders" members of a "terrorist entity,"local media reported.
The bill amends and expands previous legislation which gave a similar designation to US Central Command (CENTCOM). Initiated in April of last year, it was a tit-for-tat response to Washington's blacklisting of the Islamic Revolutionary Guards Corps (IRGC).
The latest designation, however, comes as tensions between Washington and Tehran reach boiling point, following the US' assassination of Quds Force commander Qassem Soleimani in Baghdad on Friday. Tehran has vowed to avenge Soleimani's death, a promise that in turn led to US President Donald Trump threatening to strike 52 "very high level" Iranian cultural and state targets should Iran hit any American interests.
The Iranian government has reportedly been considering 13 "revenge scenarios" in retaliation for Soleimani's killing. The semi-official Fars News Agency quoted Iranian Supreme National Security Council secretary Ali Shamkhani as saying that "even if there is consensus on the weakest scenario, carrying it out can be a historic nightmare for the Americans."
Think your friends would be interested? Share this story!
You can share this story on social media: