Blessed by 'the algorithm'? Indian singer puzzles over how he made it onto Obama's best songs of 2019 list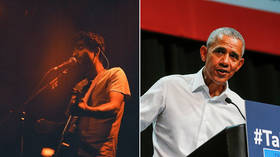 Succeeding in the music industry is no easy task, but one talented Indian singer may be on the path to international fame after securing a spot on Barack Obama's best songs of the year playlist.
Sticking to tradition, the former American president took to Twitter to share a year-end list of his favorite songs of 2019. While the presidential playlist featured tracks from superstars such as Beyonce, Bruce Springsteen and Alicia Keys, there were several lesser-known artists who also made the cut – including Indian singer Prateek Kuhad for his single 'Cold/Mess.'
Floored by the honor, Kuhad told his Twitter followers that he was amazed that the ex-president knew about his music.
"I didn't think 2019 could've gotten better, but damn was I wrong," he wrote.
This just happened and I don't think I'll sleep tonight. Totally flipping out. I have no idea how cold/mess even reached him but thank you @barackobama, thank you universe 🙂 I didn't think 2019 could've gotten better, but damn was I wrong. What an honour. https://t.co/zwaJFIQLmC

— Prateek Kuhad (@prateekkuhad) December 30, 2019
The endorsement from Obama seems to have already helped the Indian artist to attract new fans.
Some commentators attempted to demystify how the former US president learned of Kuhad's music, noting that the 'discovery' was likely thanks to a recommendation from an algorithm.
While Kuhad may be relatively unknown in the States, he has enjoyed considerable success in his native India. The music video for 'Cold/Mess' has received nearly 4.8 million views on YouTube.
Like this story? Share it with a friend!
You can share this story on social media: