Chilean military plane with 38 on board disappears en route to Antarctica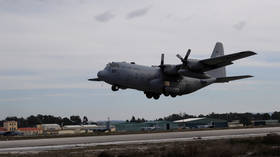 A Chilean military transport aircraft carrying 38 passengers and crew has gone missing, losing radio contact on its way to a base in Antarctica.
The military lost contact with the plane, a C-130 Hercules transport craft, on Monday evening while it was traveling to the Presidente Eduardo Frei Montalva air base in Antarctica. The whereabouts and condition of those on board – of which 17 were crew members and the rest passengers – is not known.
Military plane with 17 passengers and 21 crew members is missing in southern Chile. Destination was Antarctica #news

— Edo / えど (@edowoo) December 10, 2019
The Chilean Air Force said it had assembled a "multidisciplinary search and rescue team" to locate the missing craft that had departed from Chabunco Air Base in the city of Punta Arenas on a routine support and maintenance mission.
Update MISSING AIRCRAFT Chilean Air Force have released a map showing flight path and last known location of missing C130 aircraft. 38 people on board, 17 crew, 21 passengers. pic.twitter.com/0Igo0Vh5DB

— Tom Podolec Aviation (@TomPodolec) December 10, 2019
The Eduardo Frei Montalva air base is the largest of Chile's four permanent installations on the icy continent, where the country claims a slice of territory covering the South Shetland Islands, the Antarctic Peninsula, and several other adjacent islands. The base is supported by the tiny commune of Villa Las Estrellas, which has a population of about 150 in the summer – between October and February – and only 80 for the rest of the year.
Think your friends would be interested? Share this story!
You can share this story on social media: