7.1 magnitude earthquake hits near Indonesia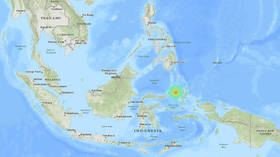 An earthquake of 7.1 magnitude struck in the Molucca Sea, some 134km northwest of the Indonesian island of Ternate, at 4:18pm local time on Thursday.
A tsunami threat message was issued by the Pacific Tsunami Warning Center (PTWC) for all coasts within 300km of the epicenter, affecting a number of Indonesian islands within the hour. Residents were advised to remain alert and seek instructions from local authorities.
A tsunami alert was also issued by the Indonesia Meteorology, Climatology and Geophysics Agency.
The quake struck at a depth of 62km between the islands of Ternate and Sulawesi.
The same area was struck by a 6.9 magnitude quake in July, with an earlier quake of 6.3 magnitude hitting the island of Ternate directly in March.
Also on rt.com
5 killed, scores injured after shallow 5.9-magnitude quake rocks Iran
Aftershocks with magnitude from 4.8 to 5.8 continued in the area for several hours, while minor waves were detected in Bitung and Ternate, according to Indonesian authorities. The tsunami warning was lifted an hour later.
Like this story? Share it with a friend!