Trump lifts Turkey sanctions as he claims ALL credit for Syria border de-escalation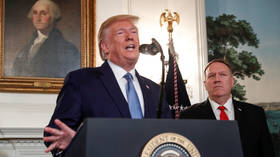 US President Donald Trump says he'll lift sanctions on Turkey, unless he's "not happy" with its actions in northern Syria, as he took complete credit for "saving" of Kurds, claiming the outcome was created by "no other nation."
Trump said Turkey had confirmed that it would make an earlier five-day ceasefire permanent and that it was holding "very well" so far.
He said the US would welcome the help of other countries in dealing with the conflict, adding that a "small number" of US troops would remain in the area "where they have the oil."
Minutes after the speech, the US Treasury said it removed sanctions imposed on the Turkish ministries of defense and energy.
Also on rt.com
Turks appeased, Kurds saved, US gets breathing space: 'Russia takes on job that US failed at' in Syria
Praising his pressure campaign against Ankara, Trump went as far as claiming that "no other nation" was responsible for bringing an end to the Turkish operation. But Turkish President Recep Tayyip Erdogan in fact made the decision not to launch a new offensive against Kurdish militias after lengthy talks with Russian President Vladimir Putin in Moscow on Tuesday.
While Washington threatened to use force against its NATO ally Turkey, Moscow chose to decrease tensions with a diplomatic approach. The agreement reached with Putin provides for the withdrawal of Kurdish forces from a border zone, where Syrian Army troops and Russian military police will take on the role of border guards. For the time being, Turkey will be allowed to keep the territory it seized during its operation.
Russia's Defense Ministry said Wednesday that it's own military police base may be set up near the town of Kobani, as part of the deal. The military police will help facilitate the withdrawal of Kurdish forces from the area around 30km from the Syria-Turkey border.
Also on rt.com
Russian military police move to Syrian-Turkish border as first phase of Erdogan-Putin deal (VIDEO)
Like this story? Share it with a friend!
You can share this story on social media: