Deep-sea dining: Octopods filmed FEASTING on dead whale carcass (VIDEO, PHOTOS)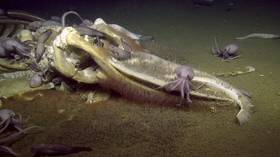 A group of deep-sea scavengers were spotted feasting on the remains of a whale by ocean researchers who looked on as the fish, octopods, and marine worms picked the huge carcass clean.
The Nautilus Live team filmed their macabre encounter during a livestream of their underwater explorations off the coast of California, and crew members can be heard gasping in awe at the exciting scene rarely caught on camera.
Close-up shots show octopuses clamped on to the skeletal remains of the giant mammal, identified by the marine experts as a baleen whale. Osedax, or 'bone-eating', worms are also hard at work living up to their name, boring into the last remnants of the whale.
There are about 15 known species of baleen whales swimming in the world's oceans, with some growing as long as 31 meters (102 feet) and weighing up to 190 tons.
Also on rt.com
Typhoon Hagibis sweeps away bags full of radioactive Fukushima waste as Japan's authorities say nothing to worry about (VIDEOS)
If you like this story, share it with a friend!
You can share this story on social media: