WATCH moment 7-story apartment block collapses in Brazil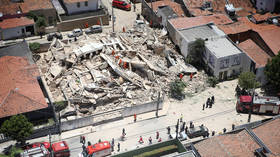 A seven-story residential building has collapsed in Fortaleza, northern Brazil. The Fire Department has confirmed that one person died and at least one other was injured, as the search for survivors continues.
Emergency services are at the scene and ambulances have reportedly been seen taking injured people to hospital. It's not clear what caused the collapse, but around a dozen people are believed to still be inside the ruins and communicating with rescue workers.
According to local reports, the residential building is in the Dionisio Torres, and fell at around 10.30am local time.
The moment of the building's collapse was caught on CCTV camera. The disturbing footage shows it abruptly folding, within a few seconds, and a thick cloud of dust engulfing the area.
The buildings nearby are currently without electricity following the collapse, and some cars parked nearby have been crushed under the debris.
Five people have been rescued from the site so far.
One local resident told G1 that he heard a loud noise "like a truck crash" immediately before the collapse. "I looked out the window and I saw very strong dust and people running," he added.
The 40-year-old building was reportedly undergoing renovations. Local residents in homes nearby have been asked to stay away for fear of explosion due to gas leaks.
Also on rt.com
Cracks on wing supports found on at least 36 older Boeing 737 jets, American & Brazil airlines ground planes
Think your friends would be interested? Share this story!