Turkey bombs Syria: Erdogan begins 'Operation Peace Spring'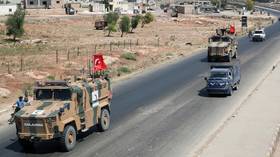 Turkish President Recep Tayyip Erdogan has launched an operation against Kurdish-led militias in northeastern Syria. Ankara sees the Kurdish militias as terrorists and argues an offensive is needed to bring "peace" to the region.
The operation targets not only Kurdish-led militias, that Ankara believes to be affiliated with the Kurdistan Workers' Party (PKK) militant group which is outlawed in Turkey, but also Islamic State (IS, formerly ISIS) terrorists, according to Erdogan.
#OperationPeaceSpring will neutralize terror threats against Turkey and lead to the establishment of a safe zone, facilitating the return of Syrian refugees to their homes.We will preserve Syria's territorial integrity and liberate local communities from terrorists.

— Recep Tayyip Erdoğan (@RTErdogan) October 9, 2019
Turkish aircraft and artillery began striking positions in Syria immediately after Erdogan's announcement, according to media reports.
A total of 181 targets were hit since the start of operation, the Turkish defense ministry said on Wednesday.
Later in the day, the Turkish military said it launched the land phase of the operation. Army units, as well as affiliated militants from the so-called Syrian "opposition," began their assault on the SDF positions.
Speaking to civilians on the ground families started to flee south this morning, others stayed put & protested imminent Turkish offensive. One woman in Tal-Abyad messaged "The town is on high alert and civilians are terrified" then she vanished offline, her phone is off #Syria

— Bel Trew (@Beltrew) October 9, 2019
Turkey has closed airspace along the border with Syria amid ongoing airstrikes. Civilian aircraft must stay clear of the area, according to freshly published NOTAMs (notices to airmen).
The air and artillery strikes have been reportedly targeting the vicinity of the Syrian border towns of Tel Abyad and Ras al-Ayn.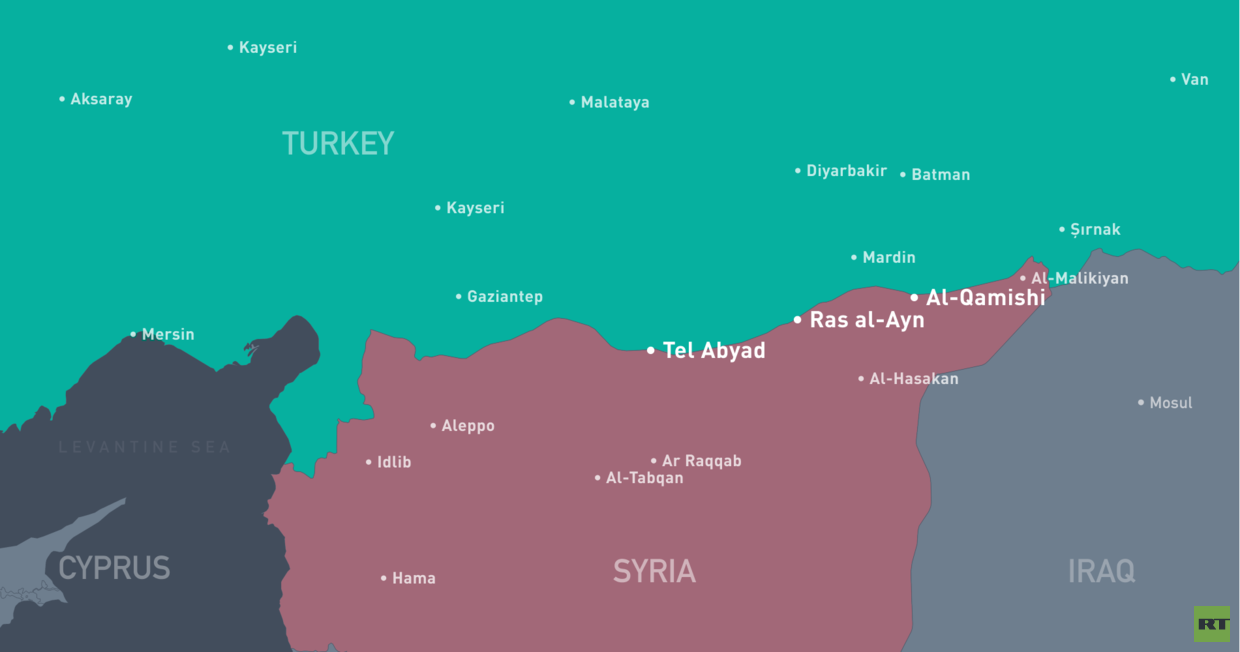 Syrian state media has released footage from Ras al-Ayn showing multiple warplanes in the skies as well as a thick plume of black smoke from a fire caused by the air strikes.
The military operation appears to be primarily targeting the so-called Syrian Democratic Forces (SDF), a group largely consisting of ethnic Kurds. The SDF has been a close ally of the US-led coalition, with members serving as foot soldiers for its years-long fight against IS.
Turkish warplanes have started to carry out airstrikes on civilian areas. There is a huge panic among people of the region.

— Mustafa Bali (@mustefabali) October 9, 2019
The SDF said the Syrian towns of Qamishli and Ain Issa were also targeted by Turkish warplanes. The airstrikes have inflicted civilian casualties, the group added, citing preliminary reports from the ground.
Also on rt.com
WATCH: Former US military base in N. Syria left deserted following withdrawal
PKK militants, seeking an independent Kurdish state, have been waging a low-intensity insurgency in the southeast of Turkey for decades. The party is listed as a terrorist group not only by Turkey, but also by the US and NATO.
Think your friends would be interested? Share this story!
You can share this story on social media: