Finland shooting: One dead, at least 10 injured in attack on vocational college located in shopping mall in Kuopio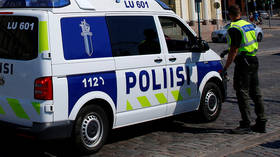 At least one person has been killed and ten others injured in an attack at a shopping mall hosting a college in Kuopio, Finland. One of those injured is the suspected perpetrator, who was arrested by responding officers.
According to the local police, violence happened at the premises of a vocational college located at the Herman mall.
Officers had to use firearms to apprehend the sole suspect.
The victims were taken to hospital. Two of them are in serious condition. The mall building was cordoned off by police, who said they believed the situation no longer posed risk.
Some witnesses told the media the attacker used a knife in the attack. The police would not immediately comment on the incident and said a press conference would be held later in the day.
Herman mall hosts the Vocational College of Northern Savonia temporarily while construction is underway new campus sometime before 2021, according to YLE. The mall is located in the southern part the city about 4 km from the center and gave room to some 600 students and 50 employees of the college.
Think your friends would be interested? Share this story!