Blast occurs near polling station in Afghanistan as presidential elections get underway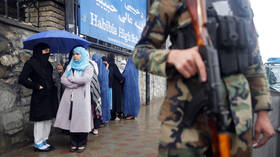 At least three people have reportedly been injured as a result of an explosion that struck near a polling station in the Afghan city of Kandahar, shortly after locals began flocking to the polls as the presidential vote began.
So far, no group has claimed responsibility for the attack. Three people were taken to hospital in the wake of the explosion, spokesman for Kandahar's provincial governor, Bahir Ahmadi, confirmed, as cited by Reuters.
AFP, however, reported that as many as 15 people were injured in the Kandahar blast, citing medical officials.
Fearing violence similar to that which marred the 2018 parliamentary elections, Afghan authorities have beefed up security, deploying around 100,000 troops to about 5,000 polling stations around the country. In addition, US forces are providing support to the local military from the air.
There have also been reports of at least one explosion rocking the country's capital, Kabul. No casualties have been reported so far.
Also on rt.com
At least 40 civilians, including 12 children, killed at Afghan wedding party during a US-backed military raid gone wrong
There was an upswing in violence in Afghanistan as the elections inched closer. Last Tuesday, 26 people were killed after a blast rocked an election rally for President Ashraf Ghani north of Kabul. The same day, a suicide bomber targeted the heavily guarded Green Zone in the capital, which hosts the US diplomatic compound and many government buildings, claiming the lives of 22 people.
Responsibility for both of the attacks was claimed by the Taliban.
Some 9.6 million Afghans are eligible to vote in Saturday's elections. They will choose the war-torn country's next president from a pool of 14 candidates, which includes incumbent Ashraf Ghani and his former deputy Abdullah Abdullah – both frontrunners of the race.
Think your friends would be interested? Share this story!