Attack on Saudi oil facilities an 'act of war' by Iran, Pompeo says after Riyadh blames Tehran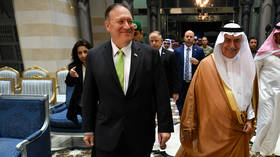 The weekend attack on Saudi Aramco oil facilities was an "act of war" against Saudi Arabia for which Iran was responsible, US Secretary of State Mike Pompeo announced upon his arrival in Jeddah for a working visit.
Pompeo, who appears to have succeeded former National Security Advisor John Bolton as the number one Iran hawk in the Trump administration, kicked off his visit to Saudi Arabia by accusing Iran of "an attack of a scale we've just not seen before." He also came up with a justification for why the US is so invested in an incident so far from its borders, other than oil and geopolitics.
"We were blessed that there were no Americans killed in this attack but any time you have an act of war of this nature, there's always risk that that could happen," Pompeo said.
Also on rt.com
Saudi Arabia accuses Iran of sponsoring oil-plant attack, says it 'couldn't have originated in Yemen'
The Khurais oil field and the Aramco refinery at Abqaiq were struck on Saturday, temporarily crippling Saudi oil production. The Houthi rebels in Yemen claimed responsibility, saying it was reprisal for ongoing Saudi air raids in Yemen.
Riyadh however, argues that the type of weapons used proved that the assault "could not have originated in Yemen." At a briefing about an hour before Pompeo landed in Jeddah, Saudi-led coalition spokesman Colonel Turki al-Maliki placed the blame squarely on Iran for "unquestionably" sponsoring the attack.
He admitted, however, that the Saudis have not determined where the attack had originated from, other than "from the north."
The US, however, appears to be going one step further in its accusation, claiming with "very high probability" that Iran actually carried out the attacks, using cruise missiles flying through Iraqi and Kuwaiti airspace, mainstream media outlets reported on Tuesday quoting anonymous sources.
Iran has rejected the accusations. Hesameddin Ashena, adviser to President Hassan Rouhani, called the Saudi Defense Ministry's press conference about the strike a "media disaster" for Riyadh.
"The press conference proved that Saudi Arabia knows nothing about where the missiles and drones were made or launched from, and failed to explain why the country's defense system failed to intercept them," Ashena tweeted.
Think your friends would be interested? Share this story!
You can share this story on social media: