China summons German ambassador after Berlin hosted Hong Kong protest activist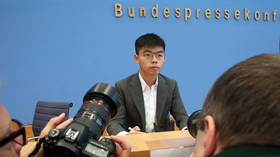 Beijing has reprimanded German envoy to protest against intervening into its own affairs and voice displeasure about Foreign Minister Heiko Maas talking with one of the figureheads of the Hong Kong protest.
Clemens von Goetze was summoned to the Chinese Foreign Ministry on Wednesday, according to Wu Ken, Beijing's envoy to Berlin. The move came one day after Joshua Wong, who is spearheading the anti-Beijing protests in the former British colony of Hong Kong, showed up in Germany and met Heiko Maas at an event hosted by the tabloid newspaper Bild.
Expanding on the decision, Ambassador Wu said Beijing has solid proof of foreign meddling in the lingering Hong Kong protests, reiterating previous statements made by the Chinese Foreign Ministry.
Also on rt.com
Beijing lashes out at Berlin after German foreign minister meets with Hong Kong protest activist
While in Berlin, Wong used the platform to make his case against battling the "dictatorship of China." He likened Hong Kong to Berlin, saying that the comparison is legitimate if "we are in a new Cold War."
On Tuesday, Foreign Ministry spokeswoman Hua Chunying fired back at the news and stated that China was "extremely dissatisfied and resolutely opposed" to Germany allowing Wong to visit the country.
Like this story? Share it with a friend!