No prisoner swap with Russia on Friday, talks continue – Ukraine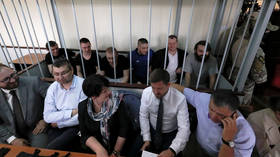 The much-anticipated major prisoner swap between Russia and Ukraine will not happen on Friday, despite earlier reports, Kiev said. This follows the buzz that a plane with people slated for exchange took off from Moscow.
"We can't name [the exact] date [of the exchange] but I can say that it won't happen today," the spokesperson for the Security Service of Ukraine, Elena Hitlyanskaya, said.

Earlier reports said that a plane, carrying a number of Ukrainian nationals held by Russia, was due to land in Kiev on Friday morning. Neither Moscow, nor Kiev confirmed this. Ukrainian officials later clarified that the talks on the prison exchange are still ongoing.
Hitlyanskaya said that the process is moving "as planned" and that there are "no obstacles" preventing the exchange from starting.
Also on rt.com
'I hope freedom of speech will be real value, not empty words' – Vyshinsky after 1yr in Ukraine jail
The possibility of a major prisoner swap was one of the stories dominating the news on Russian-Ukrainian relations in recent months. President Vladimir Putin and his Ukrainian counterpart, Volodymyr Zelensky, discussed the issue over the phone in July. Last week, Russian Foreign Minister Sergey Lavrov said that such an exchange requires "meticulous work" and cannot be rushed.
Ukraine has been demanding the release of filmmaker Oleg Sentsov who was sentenced to 20 years in prison after being convicted by a Russian court of plotting terrorist attacks in Crimea. The filmmaker denies the allegations. Last month, Zelensky offered to swap Sentsov for journalist Kirill Vyshinsky, who was charged with treason in Kiev. The authorities accuse him of publishing false information and backing the breakaway People's Republics of Donetsk and Lugansk (DPR and LPR) in eastern Ukraine. The journalist denies the allegations and argues that he had covered both sides of the conflict fairly.
After being detained for a year, Vyshinsky was released on Wednesday, with the condition that he will continue to appear in court for trial. His lawyer confirmed on Friday that the journalist remains in Ukraine and is staunchly against being included in a prisoner exchange.
Also on rt.com
Kiev offers to swap detained Russian journalist Vyshinsky for terrorism convict Sentsov
Kiev also urged Moscow to free the crews of three warships, which were seized by the Russian Coast Guard in November. Two dozen sailors were arrested and charged with violating Russia's maritime border in the narrow Kerch Strait, which connects the Black Sea with the Sea of Azov, east of Crimea. Ukraine denies this, insisting that the vessels were seized in international waters.
Think your friends would be interested? Share this story!