Tehran can reverse nuclear deal commitments in 1 hour, will increase enrichment - President Rouhani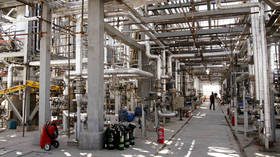 Tehran can reverse the scaling back of its commitments under the 2015 nuclear deal in just one hour, the nation's President Hassan Rouhani said on Wednesday.
Rouhani said that, starting from Sunday, Iran will increase its level of uranium enrichment beyond the limit of 3.67 percent set by the 2015 nuclear deal, known as the JCPOA, local media reported.
From July 7, we will put aside our commitment in relation to the level of enrichment and we will increase to any level that we wish depending on the needs and our requirements.
The Iranian officials earlier called the move the "second phase" of scaling down the nation's commitments under the agreement.
During the "first phase," which was activated by Iran last month, the county had increased its uranium stockpile beyond the 300kg allowed by the JCPOA.
Also on rt.com
Nations become 'more united when bullied,' Trump should understand – Iranian top official
In May, Iran gave the EU a 60-day deadline to negotiate the lifting of sanctions imposed on Tehran by the US, which unilaterally left the JCPOA last year.
Rouhani confirmed on Wednesday that the nation will revert back to fully following the deal if the other parties "return to their obligations and commitments" under the agreement.
Every action we take could be reversed within one hour.
Rouhani also said that after July 7 Iran's heavy-water nuclear reactor in Arak will "return to its previous activities," unless Europe can provide sanctions relief.
Think your friends would be interested? Share this story!