Iran denies reports Trump sent warning about imminent attack in retaliation for downed US drone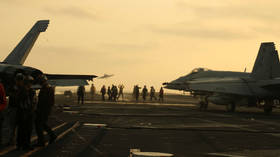 Iran's top national security official has denied a Reuters report claiming that Tehran had received a low-key message via Oman from the US warning of an imminent attack on the Islamic Republic.
"The US didn't send any message," Keyvan Khosravi, spokesman for the National Security Council, told Iranian television.
This issue is not in any way correct.
The comment dismissed a previous report by Reuters, which cited unnamed Iranian officials as saying that Donald Trump had warned Tehran of a military strike and also gave a time to respond. The message was reportedly delivered via Oman and followed the downing of a US spy UAV (Unmanned Aerial Vehicle) earlier in the week.
Also on rt.com
Iran got Trump message via Oman overnight warning of imminent attack with time to respond – Reuters
While Washington insists the incident occurred over international waters, Tehran said the drone entered its airspace and it's ready to provide evidence. Yet, before firing a missile at the intruding object, the Iranian military sent out several warnings, Gen. Amir Ali Hajizadeh, head of the elite Revolutionary Guard's aerospace division, told state TV.
"Unfortunately, they did not answer," the General added.
Hajizadeh added that Iran could have responded more aggressively to the incursion, claiming that a US Navy P-8 Poseidon aircraft was flying alongside its drone at the time of the incident. Iranian media have also released images purporting to be the twisted metal wreckage from the downed aircraft.
Also on rt.com
Iran refrained from targeting US plane with 35 on board flying beside downed drone – commander
On Friday (June 21) Trump said US warplanes were "cocked and loaded" to go ahead with their revenge strike; however, he changed his mind after hearing how many people might die.
"I asked, how many will die. 150 people, sir, was the answer from a General. 10 minutes before the strike I stopped it," Trump claimed.
The rhetoric and actions between Iran and the US are getting increasingly tough, with the latter sending additional troops, air defense systems and an aircraft carrier group to the Middle East. Meanwhile, Iran has warned that violating its territorial sovereignty was a "red line" that would be met with a proper response.
Think your friends would be interested? Share this story!
You can share this story on social media: