Instagram down: Mass worldwide outage forces users to seek refuge on Twitter
Published time: 13 Jun, 2019 22:08
Edited time: 14 Jun, 2019 08:38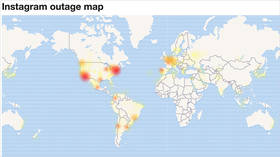 Popular photo and video-sharing social network Instagram suffered a widespread service outage on Thursday. Thousands of users across the globe vented their anger over their inability to access their feeds or upload posts.
The outrage began roughly at 4:00 pm Pacific Time and lasted over two hours. In that timeframe, roughly two-thirds of bug reports pointed out that the mobile app was not loading, showing an error page that read "couldn't refresh feed."
Accessing Instagram profiles on the web was also an impossible task. "Sorry, something went wrong," users were told in an error message. "We're working on it and we'll get it fixed as soon as we can."
Instagram apologized for the performance of their service and blamed "a technical issue" for the interrupted experience without elaborating on the cause or extent of the outage.
The blackout of the Facebook-owned platform triggered users to rush to Twitter to vent their irritation in a meme competition that propelled the #InstagramDown hashtag to number one in the world.
If you like this story, share it with a friend!