Dozens injured as massive blasts hit TNT plant in Russia's Dzerzhinsk city (VIDEOS)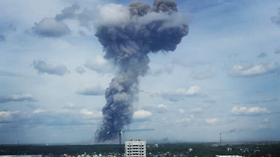 Almost 80 people sought medical help after three large blasts rocked a TNT plant in Dzerzhinsk in Central Russia. The shockwave damaged around 200 buildings, and a huge plume of smoke is hovering over the city.
The blasts were so powerful that people even heard them in another city, some 15km away. Meanwhile, residents in Dzershinsk saw large plumes of grey smoke rising above the city streets.
The shockwave from the explosions shattered windows in nearby buildings. In some cases, ceiling coverings collapsed. Authorities have declared an emergency situation in the city.
The plant's administration said that all of its employees were evacuated to safety.
Overall, 79 people required medical assistance, 15 of them were hospitalized.
The plant in question makes various types of explosives, mostly used in mining. The series of blasts erupted at the part of the plant that made TNT. One of its structures is said to be completely destroyed, and a fire is spreading on the nearby buildings.
г.ДзержинскНа заводе им.Свердлова взрыв.Масштабы пока неизвестны, но по сообщениям очевидцев, в радиусе нескольких километров взрывной волной вынесло стекла в окнах домов. pic.twitter.com/C9RDZI3tS6

— Шаден (@ShadenFM) June 1, 2019
This is not the first time explosions had happened at the same explosives-maker. On April 4, a blast brought down one of its one-story structures. It took an hour to put down the fire, and, luckily, no one got hurt that day. A much deadlier explosion occurred in the plant in August, when five of its workers were killed.
Subscribe to RT newsletter to get stories the mainstream media won't tell you.
You can share this story on social media: