Austria's president recommends snap parliamentary elections in early September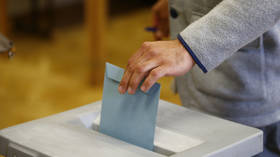 Austria's president has suggested that the snap election take place in early September of this year, while the country's chancellor stated that setting up the vote was more a "necessity" than a wish.
"It's all about the wellbeing of our country," President Alexander van der Bellen was quoted by Kronen Zeitung. The snap election should be held at some point in September, "possibly at the beginning of September," he said.
Meanwhile, Chancellor Sebastian Kurz, who earlier urged to set up the new election "as soon as possible," told reporters that the move was a "necessity." He added that there should be "maximum stability" in the country before the vote.
Also on rt.com
'As soon as possible': Austria's Kurz on snap elections following leaked video scandal
The news comes on the back of a massive political scandal that broke out on Friday. At the time, two German newspapers leaked a video that showed Austrian Vice-Chancellor Heinz-Christian Strache and his fellow party member Johann Gudenus talking to a woman described as a "niece of a Russian oligarch."
According to the leak, the politicians and the woman discussed buying a majority share in an Austrian tabloid newspaper in order to gain more beneficiary coverage for FPO. In return, Strache allegedly promised to grant the company of the woman with major construction contracts.
Strache resigned as vice-chancellor and FPO leader, but stated that the video was part of a smear campaign against him and the information was taken out of context.
Think your friends would be interested? Share this story!