'Desecration, carnival of apartheid': Netherlands wins Eurovision in Israel, unfazed by protests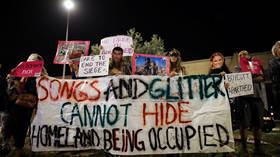 The Eurovision song contest in Israel concluded with no serious incidents, even though a crowd of ultra-Orthodox Jews clashed with police in Jerusalem while supporters of the Palestinian cause were calling for its boycott.
The Netherlands conquered the hearts of the public and jury with Duncan Laurence's Arcade beating 25 other contestants in the finals of the five-day contest in Tel Aviv. Italy's Mahmoud came in second while Russia's Sergey Lazarev took third place.
While the song contest finals did not even start until after sunset on Saturday, over 2,000 Haredi men demonstrated against the rehearsals that were being held in Tel Aviv during a day of rest which prohibits any work from sundown Friday until nightfall the next day. Marching against what they called "the horrible desecration of Shabbat in the holy land, and against the abomination show going on in Tel Aviv," they condemned the international song competition.
During the vocal protest, the ultra-orthodox crowd blocked traffic, vandalized a number of businesses, and clashed with police. At least six arrests were made.
At the same time, the Boycott, Divestment, Sanctions (BDS) movement slammed Eurovision for distracting the world's attention from the fate of the Palestinians under Israeli occupation.
"Eurovision in apartheid Tel Aviv is cynically used by Israel's far-right government to artwash, or whitewash through art, its decades-old regime of occupation, colonialism and apartheid against the indigenous Palestinian people," Omar Barghouti, a co-founder of the BDS movement, said.
To tune out the 41 competitors taking part in the contest, BDS advised pro-Palestinian activists to tune in to Globalvision – an improvised 'alternative' competition which featured Palestinian musicians.
"We launched this project so that we can boycott Israel but culturally and historically, instead of boycotting them economically," one of the coordinators of the project, Ali Abu-Al Shaikh, told Ruptly, explaining that their goal was to show the international community the suffering of the Palestinian people "through music instead of spreading this through violence."
Also on rt.com
'Israel is not safe, you will see': Hackers target Eurovision with missile threat
If you like this story, share it with a friend!
You can share this story on social media: