Schwarzenegger shares another VIDEO of vicious kick attack on him, says he barely noticed it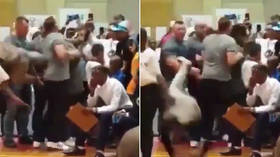 The iconic Hollywood action star and former Governor of California Arnold Schwarzenegger has confirmed that he is fine after the attack in South Africa – and actually hardly noticed it.
The incident occurred earlier on Saturday, as he appeared at the Arnold Classic Africa Festival in Sandton, Johannesburg. Schwarzenegger was attacked from behind by a man, who delivered a jumping high kick into actor's back – and was promptly apprehended by security.
Also on rt.com
Arnold Schwarzenegger struck by kicking attacker in South Africa (VIDEO)
Shortly after, Schwarzenegger took to Twitter to reassure his fans that everything was fine after the vicious attack – and that he actually thought the crowd just pushed him around accidentally.
"Thanks for your concerns, but there is nothing to worry about. I thought I was just jostled by the crowd, which happens a lot. I only realized I was kicked when I saw the video like all of you," he said.
The actor urged his fans to not give the attacker his minute of fame, and promote athletes participating in the festival instead – or at least share blurry videos of the incident without sound. Schwarzenegger then lived by his own advice and shared quite a juicy video of the incident, showing how the attack unfolded.
And if you have to share the video (I get it), pick a blurry one without whatever he was yelling so he doesn't get the spotlight. By the way... block or charge? pic.twitter.com/TEmFRCZPEA

— Arnold (@Schwarzenegger) 18 мая 2019 г.
The attacker did not fare quite well against the Terminator and has apparently hurt himself more than the beloved action movie star.
Like this story? Share it with a friend!
You can share this story on social media: