German intel cautious about working with Austrian counterparts, because… Russia – reports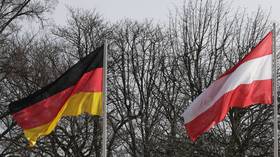 The head of the German domestic security agency, the BfV, has told the parliament he sees "considerable risks" in intelligence cooperation with neighboring Austria, according to Die Welt. And it is all about Russia again.
On the heels of a scandal involving Austria's now-former Vice Chancellor Heinz-Christian Strache and a supposed "Russian oligarch's niece," the German Welt am Sonntag weekly ran another story, also digging out the 'bad Russia' narrative.
Also on rt.com
'Political assassination': Austrian Vice Chancellor Strache resigns after leaked video scandal
According to the paper, the president of the Federal Office for the Protection of the Constitution (BfV) – Germany's domestic security agency – Thomas Haldenwang, told the parliament's intelligence oversight committee this week about his distrust of the Austrian security services.
Haldenwang said he sees "considerable risks" in cooperating with Austria in the field of security, particularly in sharing confidential data, as it might be "misused" or worse – end up in Russian hands. He did not elaborate on what prompted him to take that view.
The problem seems to be particularly linked to the fact that Austria's domestic security agency, the Office for the Protection of the Constitution and Counterterrorism (BVT), is overseen by politicians from the Freedom Party (FPO), the junior partner in Chancellor Sebastian Kurz's ruling coalition.
Austrian Interior Minister Herbert Kickl, who, according to Die Welt, initiated a February 2018 police raid on the BVT offices during which secret documents shared by other European security services were seized, is a member of the FPO.
In 2016, the FPO also committed a 'sin' by signing a 'friendship treaty' with the ruling United Russia party. Now, Die Welt says the European security services fear their secrets could have already ended up with the Russians… regardless of whether or not any proof exists.
The European intelligence agencies have been giving the Austrian security services the cold shoulder for quite some time now. This has already led to real negative consequences quite apart from the perceived "Russian threat."
Also on rt.com
Austrian spies, cut off by European colleagues over 'Russian ties', missed info on NZ shooter
The BVT withdrew from Europe's informal intelligence-sharing forum, the Club de Berne, following the 2018 police raid. And the other members of the club have been withholding information from Vienna ever since, even though relations were soon formally restored.
In April, Vienna said the situation led the Austrian security services to miss a visit by New Zealand mosque attacker Brenton Tarrant in 2018. Tarrant, an Australian citizen, is charged with killing 50 people and injuring 49 in an attack on two mosques in Christchurch, New Zealand in March 2019.
Think your friends would be interested? Share this story!
You can share this story on social media: