Indian lawmaker condemned after lionizing Gandhi's assassin as a 'patriot'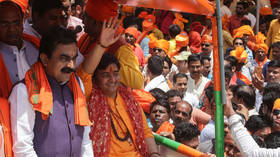 A politician from India's ruling Bhartiya Janata Party (BJP) has sparked outrage with comments praising the assassin of Indian independence leader Mahatma Gandhi as a 'patriot.' Some have called for her expulsion from the party.
The firebrand politician from Bhopal, Pragya Singh Thakur, told a rally Thursday that the militant Hindu assassin Nathuram Godse "was, is, and will remain a patriot" and that "people calling him a terrorist should instead look within."
Thakur's own party soon demanded an apology.
"BJP does not agree with this statement, we condemn it," said party spokesman GVL Narasimha Rao in a statement to media. The "party will ask her for clarification, she should apologise publicly for this statement."
Thakur did later apologize for the comment, but that didn't stem the wave of condemnation that followed, including from Indian Prime Minister Narendra Modi himself, a leading member of the BJP.
"Any comments and or statements made on Gandhi or Godse are absolutely wrong," Modi told Indian media Friday. "Such language and thoughts should be condemned and are unacceptable in a civilised society."
"She apologised publicly for the comments, but I won't forgive her at a personal level," Modi added.
The opposition Indian National Congress Party (INC) said that Modi's response wasn't sufficient and requested that Thakur be removed from the BJP altogether.
The quarrel over Thakur's comment comes just days before India's general elections are set to conclude on Sunday, where PM Modi faces off against INC president Rahul Gandhi.
Thakur is no stranger to controversy. She was arrested in 2008 in connection to a mosque bombing in the city of Malegaon which killed six and injured around 100 others. Authorities claim she supplied a motorcycle used in the attack.
After eight years in prison, she made bail in 2017 on health grounds, though she still awaits trial for other charges related to the bombing.
Like this story? Share it with a friend!
You can share this story on social media: