Russia to stay in PACE, European ministers say despite anger from Ukraine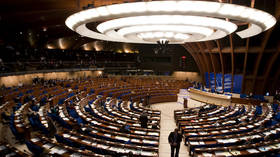 The Council of Europe has decided that Russian lawmakers should remain in its Parliamentary Assembly (PACE). Moscow was stripped of its voting rights after the Ukrainian crisis of 2014.
European foreign ministers agreed that all PACE member states "should be entitled to participate on an equal basis" in its work, according to the final document adopted at a meeting in Helsinki, Finland, on Friday.
"It is good news that we agreed that Russia should remain in the Parliamentary Assembly of the Council of Europe. Especially because this preserves the right of millions of Russians to appeal to the European Court of Human Rights," German Foreign Minister Heiko Maas said commenting on the decision.
Russian Foreign Minister Sergey Lavrov said that the decision "paves a way for overcoming the current crisis" between Moscow and other members.
The voting rights of the Russian delegation were suspended in 2014, after Crimea chose to leave Ukraine and rejoin Russia – a move that European nations treated as "annexation." Russia called the decision "politically motivated" and "discriminatory." Russian lawmakers stopped attending meetings as a mark of protest. Later in 2017, Moscow suspended all payments to the budget of the Council of Europe, saying it will only release the funds after its rights are reinstated in full.
The decision is likely to anger Kiev, which for years have been pressuring other PACE members to keep the Russian delegation silenced. Ahead of the Friday meeting, Ukrainian Foreign Minister Pavlo Klimkin said he would boycott it, since the passage of the decision was expected beforehand, and warned that Ukraine would "alter in a significant way the scale of its cooperation with the Council of Europe due to losing confidence in the institution" over it.
Also on rt.com
Russia not coming back to PACE as long as possibility of discrimination remains – top senator
But delivering on the threat may be a job for another person, since Klimkin resigned on Friday as part of a major reshuffle of the Ukrainian leadership in the wake of the election of a new president last month.
Think your friends would be interested? Share this story!