US speaks of peace talks, while 'holding a gun' at Tehran – top Iranian official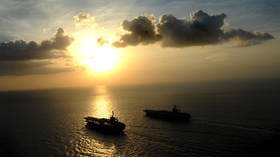 Iran has pulled no punches with regards to Washington, saying that while the US is urging talks, it simultaneously holds a gun at Tehran. It comes as tensions between two states continue to grow.
"The actions of American leaders in exerting pressure and launching sanctions […] while speaking of talks, is like holding a gun at someone and asking for friendship and negotiations," Rasoul Sanai-Rad, a political deputy of the armed forces command said as quoted news agency Mehr.
US President Donald Trump has been recently insisting his country was not on a path of war with Iran and that the latter "will want to talk soon." That said, two US Navy destroyers entered waters of the Persian Gulf on Thursday.
Also on rt.com
2 US destroyers enter Persian Gulf amid tensions with Iran
Hawks in Trump's administration have long been calling for tougher stance on Tehran. Last year, Washington unilaterally pulled out of the Iran nuclear deal and renewed sanctions on the country.
In recent days, the situation in the Middle East has dramatically worsened with the White House rushing the USS Abraham Lincoln Carrier Strike Group to the region ahead of schedule in response to "a number of troubling and escalatory indications and warnings". The deployment was meant to be "a warning" to Iran.
Iran's Supreme Leader Ayatollah Ali Khamenei earlier this week assured that neither Iran nor the US actually seeks war. Meanwhile, as tensions between Washington and Tehran gain ground, European leaders have urged both countries to measure their statements. That said, the bloc again expressed its regret on US sanctions targeting Iran as well as ditching the landmark nuclear accord (known as JCPOA), which Trump has been boasting as one of his major achievements.
Think your friends would be interested? Share this story!
You can share this story on social media: