Internet hero Grumpy Cat dies aged 7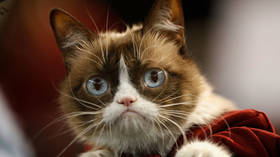 The feline who became a viral hit and sparked a frenzy of memes thanks to her iconic scowl has passed away, her owners have confirmed.
The cat, famous for its permanent angry expression, was seven years old and died from complications of a urinary tract infection.
Her real name was Tardar Sauce and she went viral in 2012 after an image of her iconic grumpy face was posted to Reddit and began circulating online. She soon became a meme and went on to have books published in her name, and even went on world tours meeting her fans.
Grumpy Cat has 8.5 million Facebook fans, 2.4 million Instagram followers and 1.5 million Twitter followers.
Heartbroken 😥😥😥 Sending my love to Tabatha and all your family. That came as quite the shock 🖤🌈

— Fran O'Reilly (@ShadEO9) May 17, 2019
We love you. The internet family loves you.

— Arnaud Seguin (@ArnaudS1990) May 17, 2019
i loved this cat. I had the absolute pleasure of meeting her once and I will never forget it. I will never forget the first time I saw her face! I learned much from her and am deeply saddened and devastated to hear of her passing. Love you Tartar Sauce! Long live Grumpy Cat!

— NML VGTBL MNRL (@NML_VGTBL_MNRL) May 17, 2019
Owner Tabatha Bundesen explained that her distinct facial expression was a side-effect of feline dwarfism.
Think your friends would be interested? Share this story!
You can share this story on social media: