Petition for new writers to remake GoT final season reaches almost 800k signatures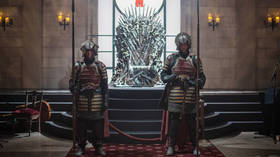 A petition calling for HBO to entirely remake the last Game of Thrones season with new writers has drawn almost 800,000 signatures, with irate fans demanding a "final season that makes sense."
The Change.org petition called "Remake Game of Thrones Season 8 with competent writers" states that "David Benioff and D.B. Weiss have proven themselves to be woefully incompetent writers when they have no source material (i.e. the books) to fall back on."
READ MORE: Mother of drones: Game of Thrones heel turn sparks viral US foreign policy meme
The petition was launched by 'Dylan D' last Thursday but gained serious momentum following the airing of Sunday night's fifth and penultimate episode of the series.
The hugely popular show's latest installment, 'The Bells', is the now the worst-reviewed episode in its history, as frustrated fans despair at the route the show has taken for its final farewell, particularly the downfall of character Daenerys Targaryen.
Character of Daenerys deserved better than being portrayed as worst than Cersei !!! 8years of waiting and we get disappointed... #GameofThronespic.twitter.com/13xZOcYRcE

— Shruti Mardolkar (@mardolkarshruti) May 13, 2019
The Character development we don't deserve. But still so much love for Dany . #Daenerys#GamefThronespic.twitter.com/EN3iS9g591

— Sashara ⚜️ (@sasharajohnson) May 13, 2019
Daenerys Stormborn Of House Targaryen, First of Her Name, The Unburnt, Queen of the Andals and The First Men, Khaleesi of the Great Grass Sea, Breaker of Chains and Mother of Dragons. YOU DESERVED BETTER. MY QUEEN. #GameOfThronespic.twitter.com/FxO24uzzOS

— Taylor Swift (@samanthaswft) May 13, 2019
ten years developing a strong, loving, and kind hearted character just to ruin everything she stood for in one season, daenerys targaryen you truly deserved better #gameofthronespic.twitter.com/baRGdpTmRz

— daenerys (@madisynnunan) May 13, 2019
Unlike the previous seasons, the final one has surpassed George R.R. Martin's novels, which served as the show's source material up to that point, and has instead been written by Benioff and Weiss. However, the pair were reportedly given a broad outline of Martin's plans for the characters, including how the author intended on finishing out the series on paper.
Also on rt.com
Tyrion Lannister doppelganger discovered working as waiter in Pakistan (PHOTOS)
Like this story? Share it with a friend!