No kissing gays or conservative hunters: Overcautious Facebook blocks political ads in Sweden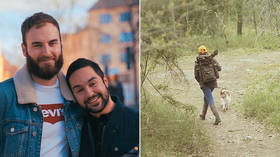 Two political parties in Sweden have been told by Facebook that they cannot promote their campaign videos on the platform. One featured a gay couple kissing while another showed a candidate carrying a hunting shotgun.
Just like other EU members, Sweden is preparing to elect its representatives to the European Parliament, so various parties are campaigning for votes. And two of them were surprised to learn that Facebook rules are too restrictive for their messaging, Expressen reported.
Christian Democrats were denied a request to promote a political ad supporting their candidate, Ella Bohlin, which appealed to its rural voter base. The film featured Bohlin walking through Sweden's majestic forests with her dog while carrying a hunting shotgun on her shoulder and saying that her party will not allow the EU to dictate to Sweden how to regulate game conservation. She was never shown shooting or even aiming the weapon, but its mere presence in the footage made it ineligible for promotion on Facebook.
Similarly rejected was a short film produced by Liberals, who wanted to showcase core European values that they support: peace, freedom of movement and acceptance of minorities. The film includes a male gay couple cuddling and kissing, which Facebook ruled was "sexually suggestive" and thus unpromotable on the platform.
The films themselves were not banned, so supporters of the parties are free to share them with their friends. They had 6,200 and 55,000 views for Christian Democrats and Liberals respectively at the time of writing. But the parties cannot spend money to boost engagement, which seems a bit overcautious and may look like political censorship for some people.
Facebook has restricted its rules for political advertising in the wake of accusations that the platform was used by Russia to interfere with the 2016 presidential election in the US, which Moscow denies. Senior executives of the corporation had to testify before US legislators, explaining how they allowed pictures of a buff Bernie Sanders, and Christ arm-wrestling Satan to decide the outcome of the election, to be disseminated on their network.
Also on rt.com
Facebook briefly takes down Elizabeth Warren's ads on breaking up Facebook
The social giant was also dragged through the mud by the US media, which conveniently paid little attention to details like the $100,000 budget of the claimed campaign – a meager sum for a multibillion dollar election cycle – or the fact that half of the ads that Facebook identified as "Russian" were shown after the ballot.
The tech giant's reputation was further damaged by a series of scandals over its questionable management of user data. Facebook was exposed for having worked with third party developers like the now-defunct election-influencing British firm Cambridge Analytica – allowing them to harvest user data for political targeting.
Apparently, Facebook now has a 'better safe than sorry' policy and tries to avoid any potential political ad controversy.
Think your friends would be interested? Share this story!
You can share this story on social media: