'People were happy': Swedish feminist MEP under fire for spending taxpayer cash on '3D clitorises'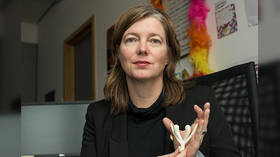 A member of the European Parliament from Sweden raised eyebrows at home when she used her hefty office allowance, paid for by EU taxpayers, to buy hundreds of plastic clitorises for 'feminist and left causes.'
A report by the Swedish public broadcaster SVT revealed that Malin Bjork from the Left Party had spent up to one million Swedish kroner ($104,000) during her tenure as an MEP.
The sum surprised local media, since MEPs are generally expected to use the money to cover travel expenses when working outside their home country, while Bjork primarily lives in Brussels, where the European Parliament is based.
Also on rt.com
'We don't need Schnitzel regulations': Austria's Kurz blasts EU 'paternalism'
More eyebrows were raised when the politician explained that a portion of the money intended to cover office costs was spent on somewhere between 150 and 200 "3D plastic clitoris models for feminist and left causes." Bjork defended the purchase by saying that the items were handed out during political campaigns.
"People were very happy with them," she told Aftonbladet on Thursday.
Elected to the European Parliament in 2014, Bjork had previously used clitoris models during campaigns against female genital mutilation, although it is unclear whether they were the same items paid for from the European Parliament's budget.
Malin Bjork insisted that she did not break any European Parliament rules and said that she already reimbursed 50,000 kroner ($5,200) to its budget last month.
Think your friends would be interested? Share this story!
You can share this story on social media: