Washington orders suspension of all flights between US & Venezuela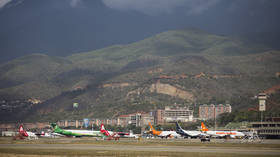 Washington has suspended all US-based cargo and passenger air services between the US and Venezuela, citing "safety and security" conditions in the Latin American country amid attempts to oust the government in Caracas.
The move was announced by the US Department of Transportation on Wednesday. The decision was made with "the approval of the Secretary of State" and in cooperation with the Homeland Security Department, the DOT said in a statement.
From now on, all flights to and from Venezuela operated by both US air carriers and foreign companies are suspended due to conditions around the country's airports "that threaten the safety or security of passengers, aircraft, or crew."
The decision is yet another – largely symbolic – jab at the Venezuelan authorities, since the air service between the two countries was largely non-existent already. American Airlines was the last major US carrier to suspend flights to and from Venezuela, back in March. Others have halted their flights over the past two years.
The blanket ban on air service follows a decision of the Federal Aviation Administration (FAA), announced earlier this month, which prohibited US-certified aircraft operators and pilots from flying below 26,000 feet (8 kilometers) over the territory of Venezuela, citing "safety and security" reasons as well.
In January, the Trump administration recognized opposition politician Juan Guaido as "interim president" of Venezuela and called for President Nicolas Maduro to resign. Repeated attempts by Guaido to seize power have failed, however, and his latest bid involves inviting the US Southern Command to invade Venezuela.
Also on rt.com
Guaido's 'envoy' set to meet Pentagon officials to plan ways of bringing 'democracy' to Venezuela
Like this story? Share it with a friend!
You can share this story on social media: