Jerusalem's newest shrine? US celebrates embassy move anniversary as Israel braces for riots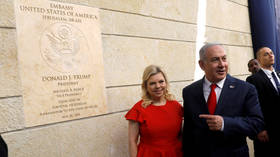 The American embassy in Jerusalem is nothing short of a "new shrine" for the Jewish nation, the US ambassador said on the anniversary of the embassy move that has sparked violent protests and clashes ever since.
"We have done something that has not been in quite some time: We have created a new shrine in the ancient city of Jerusalem," US Ambassador to Israel David Friedman said Tuesday, celebrating the one-year anniversary of the US embassy's opening in Jerusalem, observing that people often get off the buses and recite a prayer at the diplomatic site.
"Israel has one secret weapon that not too many countries have: Israel is on the side of God. And we don't underestimate that," Friedman claimed.
President Donald Trump shocked the world with his decision to move the American embassy from Tel Aviv to Jerusalem. Despite US claims that the move will rejuvenate peace negotiations between two longtime foes, the development only intensified the Israeli-Palestinian conflict and angered the Arab world after effectively decimating hope for the two-state solution which envisioned East Jerusalem as a capital for the Palestinian people. Violence and weekly clashes have been raging in the region for over a year.
The inauguration ceremony last May 14 fell on one of the deadliest days of the Great March of Return protests, in which Israeli soldiers killed over 60 Palestinians. Despite that, Friedman stressed that "the violence in Gaza had nothing to do with the opening of the embassy."
Concerned with possible repetition of last year's violence, the US embassy issued an alert warning that "security incidents can occur well beyond Gaza and its periphery and at any time." While major confrontations were averted on Tuesday, massive Nakba Day rallies are scheduled for Wednesday, which will coincide with the Eurovision song contest being held in Israel.
Protests are expected to take place along Gaza border and in the West Bank. The IDF and border police units have been placed on high alert ahead of the marches commemorating the displacement of Palestinians following the creation of the State of Israel in 1948.
Like this story? Share it with a friend!
You can share this story on social media: