US Secretary of State Mike Pompeo lands in Sochi for his first official visit to Russia (VIDEO)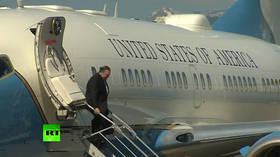 Pompeo is set to meet Russian President Vladimir Putin and Foreign Minister Sergey Lavrov. He earlier said it's their collective duty to "find ways for further development'.
Pompeo landed at Sochi International Airport on Tuesday afternoon for what is his first official visit to Russia. He earlier cancelled a planned meeting in Moscow for discussions with European leaders in Brussels on escalating tensions with Iran.
Pompeo was welcomed at the airport in Sochi by Russian diplomats, who he spoke to briefly, surrounded by journalists and security, before being driven off for talks with Lavrov.
The US diplomat will have a range of issues to discuss with his Russian counterparts in the resort city of Sochi, including the political and humanitarian crisis in Venezuela. He previously told reporters he would speak about what he called Russia's "aggressive and destabilizing actions."
The diplomats are also likely to discuss a potential new arms control treaty between the US and Russia. US President Donald Trump said earlier this month after a call with Russian President Vladimir Putin that the two countries could possibly sign a "new nuclear agreement."

Also on rt.com
Pompeo ahead of meeting Putin: We need to 'find a way forward' in US-Russia relations
Like this story? Share it with a friend!
You can share this story on social media: