NATO ally Spain pulls warship from US strike group 'to avoid being dragged into conflict with Iran'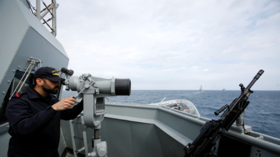 Spain has withdrawn a frigate which was part of a US combat group traveling to the Persian Gulf to 'send a message' to Iran. Madrid has signaled that the operation falls outside of its military commitments as a NATO member.
Acting Defense Minister Margarita Robles ordered the Spanish warship Mendez Nunez to break off from the armada, led by the USS Abraham Lincoln, El Pais reported Tuesday. According to the Spanish newspaper, the decision was made in order to "avoid being involuntarily dragged into any kind of conflict with Iran."
With 215 sailors on board, the Nunez is the only non-US ship present in the strike group currently on its way to the Persian Gulf. The Spanish frigate was enlisted to tag along with the US warships more than a year ago, in hopes of improving training and logistics with Madrid's trans-Atlantic ally. The operation was originally slated to last six months, from the end of April to October 31, when the Nunez was due to set anchor in San Diego, California.
Also on rt.com
Strait of Hormuz, Gulf of Tonkin? Trump warns Iran it will 'suffer greatly' if it does 'anything'
The decision to withdraw from the strike group means that the Nunez will continue to operate in the region, but without entering the Persian Gulf. The Spanish frigate plans to rejoin the US fleet when (or if) it leaves the Gulf and continues on its planned route. The strike group entered the Gulf of Aden, off the coast of Yemen, on Tuesday.
Last week, Robles stated that in relation to tensions between the US and Iran, "Spain's commitment is to the European Union and international organizations, and from there we will always adopt our common positions." She also stressed that Spain is a "serious and trustworthy partner" but that its military is only bound to agreements made with the EU and NATO.
Also on rt.com
US plans to deploy 120,000 troops in Middle East to counter Iran – report
Tehran announced in May that it would bypass US sanctions by selling its oil on the "grey market." Immediately after, US National Security Advisor John Bolton said that the aim of the Lincoln-led flotilla was to "send a clear and unmistakable message" to Iran that "any attack on United States' interests or on those of our allies will be met with unrelenting force."
Tehran has denounced the move as part of a "psychological war" and has warned that Washington will be held responsible for any violence that may erupt as a result of its aggressive posturing.
Like this story? Share it with a friend!
You can share this story on social media: