5 killed, 10 injured in midair seaplane collision in Alaska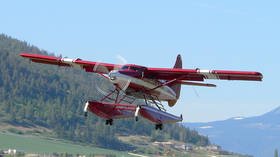 Two seaplanes carrying a total of 16 people have collided midair and crashed into waters off Ketchikan City, Alaska. While ten people miraculously survived the incident, at least five were killed and another one is still missing.
Five people have been confirmed dead after a de Havilland DHC-2 Beaver and de Havilland DHC-3 Otter collided and crashed near a popular tourist lodge on Monday.
#breaking: Princess Cruises says 5 people are dead, including 4 Royal Princess guests and pilot after Taquan float plane crashed about 8 nautical miles from Ketchikan, Alaska. The plane was flying a shore excursion sold through Princess Cruises.Princess Cruises Statement below. pic.twitter.com/CTssjYrJIA

— Preston Phillips (@PrestonTVNews) May 14, 2019
The passengers in both planes came off the Royal Princess, the cruise ship operator said in a statement, noting that the crash happened approximately eight nautical miles from Ketchikan shortly after 1:00 pm local time.
"The flight was returning from a Misty Fjords tour and carried ten guests from Royal Princess and a pilot. A second float plane was also involved in an incident and was carrying four guests from Royal Princess on an independent tour," the company said, expressing their condolences to victims' families.
My parents are on the cruise ship in Alaska and are in shock. They just sent this announcement that the ship's captain made to the passengers. 💔 Everyone on the ship is in shock and heartbroken about what happened. pic.twitter.com/paNnhwGHQE

— AliceInWonderland (@TheHollyFields) May 14, 2019
Following the incident, the Coast Guard dispatched helicopters and boats for search-and-rescue operations, while Forest Service and Alaska State Troopers also sent personnel to the scene. The cause of the tragedy is now under investigation.
Ten people were accounted for, the Coast Guard said in a statement, amid an ongoing search and rescue effort. One of the survivors was reported in critical condition, three are in serious condition and six people are in fair condition, authorities said earlier.
The Voyage of the Glaciers cruise was a seven-day trip that departed Vancouver on May 11 and is scheduled to arrive in Anchorage on May 18.
Think your friends would be interested? Share this story!
You can share this story on social media: