CEO's reading tips go viral for being 'the absolute worst'
Published time: 12 May, 2019 16:50
Edited time: 13 May, 2019 13:02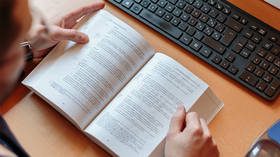 An executive detailing the weird and excessive ways he reads books is going viral as people poke fun at the odd methods employed by the businessman, including his habit of tracking down authors to 'connect' with them.
The Linkedin post by a CEO identified only as "Richard" was shared on Twitter and outlines how he consumes books. He starts by buying the audiobook and listening to it at 2x speed. "If it's good, buy a hardcopy and highlight juicy bits," he says, then he makes "summary notes of juicy bits in Google Docs" before trying to "connect with the author to discuss in depth."
"How do you consume books and audio?" he asks, likely not suspecting most people's answers would be 'definitely not like that,' and more like, open book and read.
Many expressed pity for the poor authors Richard sets his sights on in the hope of discussing their work "in depth." Others pointed out how difficult it can be to connect with all the great writers who are long dead.
I consume books by first boiling them for a couple of hours.

— James, despite our best efforts (@TheJamesM) May 11, 2019
I unhinge my jaw like a mighty python and swallow the book whole. If it was very good I will devour the author as well.

— Morgan LeStrade (@LestradeMorgan) May 11, 2019
I hover on convection currents and when, with my telescopic vision, I spot a book hiding in the long grass, I swoop down and catch it in my raptor claws, devouring it whole. I then regurgitate a pellet of adverbs and commas. That's how I consume books.

— NickFeelin (@NickFeelin) May 12, 2019
Some people suggested the CEO's reading methods suggested he only read books about "management and leadership" and could easily speed through them.
Try to connect with the author to discuss in depth. Sweet Jesus ..

— dylan white (@ruralidyll) May 11, 2019
I wrote you, but you still ain't callin'
I left my cell, my pager and my home phone at the bottom
I sent two letters back in autumn, you must not've got 'em
There probably was a problem at the post office or somethin' pic.twitter.com/ce5ZmJrYsN

— Luiz Fernando Rodas (@luizrodas) May 11, 2019
And he only has 43 current restraining orders from authors too!

— 💧 mmmaxi (@mmmaxi) May 11, 2019
If I was an author and this guy contacted me I would defend myself with lethal force

— Dan (@dankgdl) May 11, 2019
"Yeah, I've got a few questions about this. Look forward to hearing back from you soon." pic.twitter.com/hqaLeyr7jQ

— 🅡🅞🅑 🅜🅔🅢🅤🅡🅔 (@robmesure) May 11, 2019
Others mocked his use of the word "consume," joking they boiled their books before eating them or consumed them with their eyes.
I have to conclude that this guy only consumes utilitarian books on management and leadership, which all regurgitate the same general themes, only with varying degrees of sports & military analogies. Those can easily be buzzed through at 2X and condensed with no great loss.

— King of Tωitter (@TonyNoland) May 11, 2019
but he's a CEO so by default people see him as "successful" and will follow this advice. I guess sociopaths need hobbies too

— gilbert gottfried as the voice of Hidalgo (@EmceeColumns) May 11, 2019
RT.com can reveal that the mystery CEO is Richard Banfield, of Fresh Tilled Soil, who describes himself as being a co-author of Product Leadership & Design Sprint, and who appears to love books.
Being an @OReillyMedia author has its perks. Monthly box-o-books from some of the smartest people in design and product. pic.twitter.com/ktuGBWAO9R

— Richard Banfield (@RMBanfield) May 12, 2019
These book titles were recommended to me. Any suggestions on where to start:

Tattoos on the heart
Smoke gets in your eyes
American Kingpin
Molly's game
Red Notice
The Actors Life
The Wright Brothers
The Righteous Mind
Beautiful Constraint
Open
Born Standing Up

— Richard Banfield (@RMBanfield) May 9, 2019
He detailed further how he approaches authors under his Linkedin post. "Some respond to a tweet or email. Some you need to get through a backchannel friendship or connection. I've also paid authors to give me their time if I think it's warranted."
Think your friends would be interested? Share this story!