'The Model XXX': Pornhub sees surge in 'Tesla' searches after self-drive sex video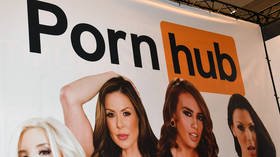 A couple having sex inside a moving Tesla on autopilot inspired a massive surge in Tesla-related searches on Pornhub, especially after Elon Musk joked about the video on Twitter.
Footage of a couple having sex in the Model X as it motored along started circulating on the popular porn website at the end of April, inspiring many Pornhub users to seek out similar self-driving sex videos.
Pornhub shared a screenshot from the video in question on Instagram, writing, "Reporting you to Elon for not having two hands on the wheel with autopilot enabled."
Tesla founder Musk later responded by tweeting about the video.
Shoulda seen it coming …

— Elon Musk (@elonmusk) May 9, 2019
His contribution caused the search volume to skyrocket. Pornhub reports over 3 million people searched for Tesla-related content in 10 days, with a huge spike occurring after the car company's CEO got involved. The video itself has racked up 7.2 million views.
Musk continued to crack jokes under his original tweet about the x-rated road trip, much to the delight of his followers.
Tesla is S3XY after all

— Viv 🍙 (@flcnhvy) May 9, 2019
Basically begging for it

— Elon Musk (@elonmusk) May 9, 2019
The model xxx. Just a model x with the middle seats removed and extra interior cameras 😂

— osomolose (@EsolomosO) May 9, 2019
Are their still plans to drive from NYC to LA on full autopilot?

— franks (@WhatsupFranks) May 9, 2019
That journey will have a diff age rating

— Elon Musk (@elonmusk) May 9, 2019
Like this story? Share it with a friend!
You can share this story on social media: