'Very standard stuff': Trump says he is not concerned about N. Korean short-range missile tests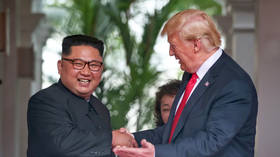 US President Donald Trump says he does not view recent short-range missile launches by Pyongyang as a violation of his trust, telling Politico that he and North Korean leader Kim Jong-un are still on good terms.
In an extensive interview on Friday, Trump briefly gave his take on North Korea's increased missile activity.
Also on rt.com
US launches two missile tests right after NK fires pair of projectiles (VIDEO)
In stark contrast to his saber-rattling of two years ago, Trump seemed to be pretty laid-back when speaking about Pyongyang's recent series of short-range missile tests, the latest of which took place just a day earlier. Early Thursday morning, the DPRK test-fired two short-range projectiles from its Sino-ri launch site, which flew 260 and 170 miles.
"They're short-range and I don't consider that a breach of trust at all," the president said.
Possibly leaving a loophole for himself in case of a sudden change of heart, Trump said that "at some point" he may start considering the launches inappropriate.
"But at this point no," he said, calling the tests "very standard stuff."
Trump sounded equally ambiguous when talking about his supposedly "excellent" relationship with Kim. He said that for the moment, the two remain on friendly terms, adding that this too might change "at some point."
Following their summit in Hanoi in February, the thaw between the two nations appeared all but over after the talks ended with no deal and were followed by strong rhetoric from Pyongyang questioning Washington's willingness to mend ties with the North.
North Korea accused the US of using a strong-arm approach to the negotiations, urging it to drop "its current calculation method" and vowing to increase its own defensive posture in the meantime, including resuming missile tests.
The talks in Vietnam ended abruptly after the US reportedly refused to relieve North Korea of sanctions in exchange for it halting nuclear and ballistic missiles tests, while insisting on full and irreversible denuclearization.
In the wake of the short-range missile launches by Pyongyang, the US test-fired an intercontinental ballistic missile and conducted a submarine missile test. The US military insisted that the timing of the tests is in no way connected to the North Korean launches.
Think your friends would be interested? Share this story!
You can share this story on social media: