Yemen's Houthis offer unilateral withdrawal from key ports in coming days - UN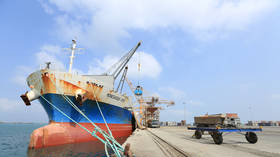 The Houthis have offered to withdraw their forces from three key ports in Yemen starting this weekend, according to senior United Nations official in charge of monitoring the move.
The UN "welcomes the offer and intention of the Ansar Allah to undertake an initial unilateral redeployment from the ports of Al-Hudaydah, Salif and Ras-Issa," said Michael Lollesgaard, chair of the UN's Redeployment Coordination Committee (RCC), which oversees some of the peace talks between the warring parties in Yemen.
Ansar Allah (Supporters of God) is the official name for the military arm of the Houthis, who have been in conflict with a coalition led by Saudi Arabia since early 2015.
Also on rt.com
Trump's backing of Saudi war in Yemen is 'business decision'
Al-Hudaydah (Hodeidah) is a major port on the Red Sea, which has been under siege by the Saudi-led coalition forces since June 2018. Salif and Ras-Issa are a salt mine and oil terminal north of the port.
According to the UN, the Houthis have pledged to turn control of all three to the Yemen Red Sea Ports Corporation, a governmental body that manages some of the country's commercial shipping.
The Houthis agreed in principle to vacate the ports when they met to negotiate in Sweden last December. The resulting 'Stockholm Agreement' saw a number of setbacks since then as the fighting continued.
The gesture of goodwill by the Houthi rebels did not sit well with Yemen's Saudi-backed government.
The Yemeni information minister, Moammar al-Eryani, has castigated the proposal as "innacurate" and "misleading," arguing that any withdrawl of forces that does not envisage "joint verification" by the parties is "elusive and manipulative."
The conflict in Yemen has already claimed tens of thousands of lives and put millions on the brink of starvation in what was already the poorest country on the Arabian Peninsula. Fighting has choked off much of the aid entering the ports, and with the coming redeployment the UN hopes the flow of food and other goods entering Yemen will increase, helping alleviate the humanitarian crisis.
Like this story? Share it with a friend!